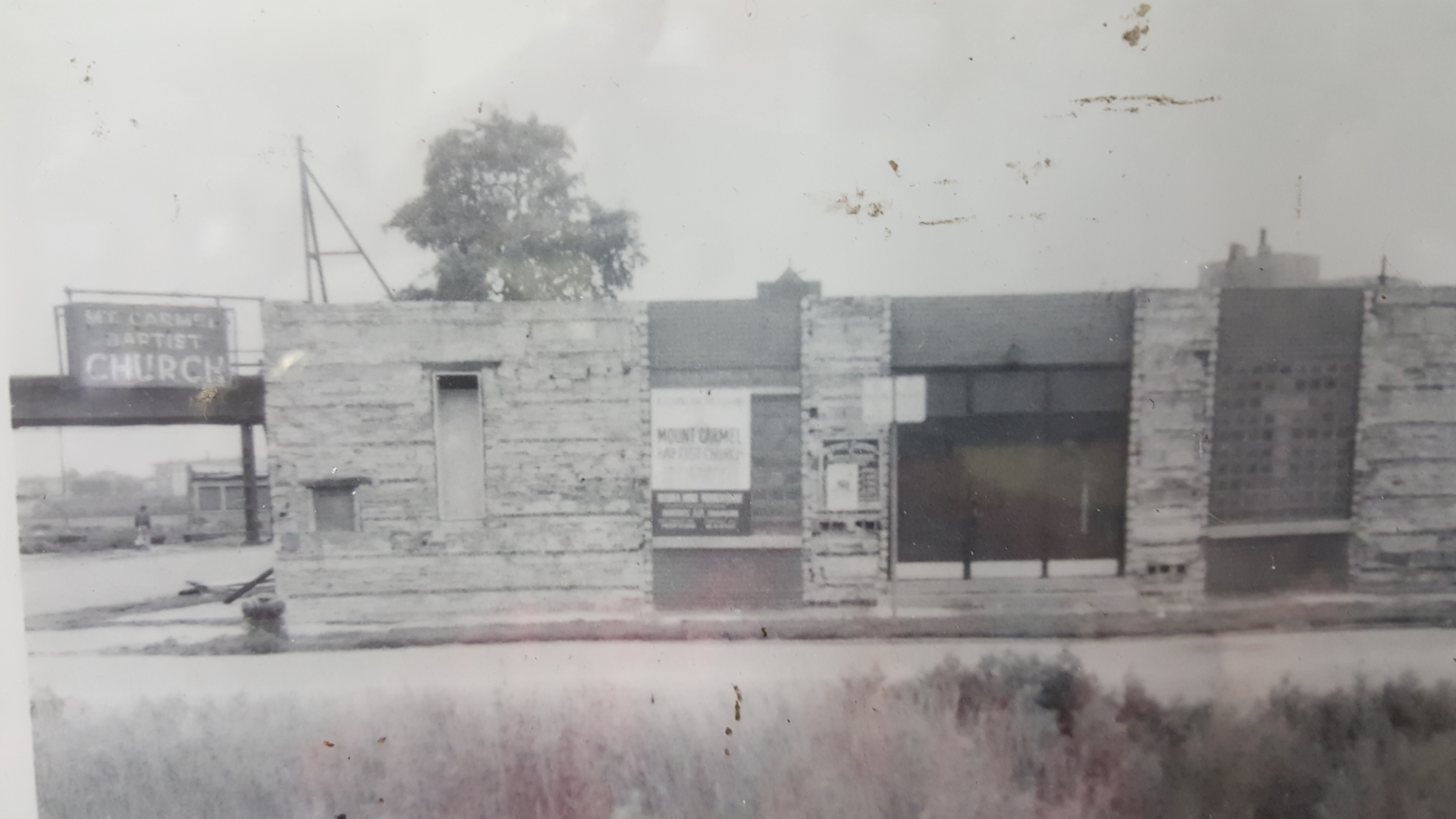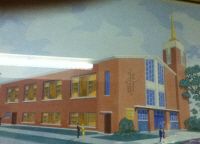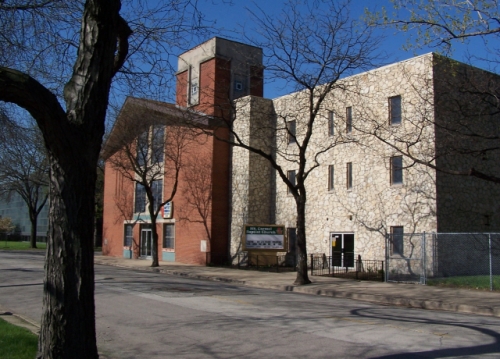 M
ount Carmel Missionary Baptist Church was organized on October 10, 1945
with a fourteen member congregation and their first Pastor, Reverend Joseph B. Felker.



W

e currently celebrate our annual church anniversary celebrations with a three-day revival that covers the 10th of October, no matter where the date falls. Deacon Phillip Varnado, Chairman of the Deacon Ministry is also General Chairman of our Annual Church Anniversary Celebrations.

The church was initially located at 22 East 31st Street, Chicago, Illinois where they remained until Easter Sunday 1952. That Easter Sunday brought a celebration march into our current location, 2978 South Wabash Avenue, Chicago, Illinois.
Reverend Joseph B. Felker's Pastoral service to his congregation and community, led him to receive God's directive into a Missionary Extension journey. This field of mission brought Pastor Felker into an outreach plan for God. He later journeyed to Liberia, on the continent of Africa and labored in Monrovia, Liberia's capital city. The Reverend Joseph B. Felker made numerous accomplishments in Liberia.

On the 1st Sunday of February 3, 1957 the Reverend Joseph B. Felker turned over the Mount Carmel Missionary Baptist Church
into the capable leadership of his son, the Reverend Dr. Joseph B. Felker, Jr. where he was duly and unanimously elected as the 2nd Pastor of the Mt. Carmel Missionary Baptist Church. Reverend Joseph B. Felker, called by God into eternal rest, departing this life after serving God and being the Pastor of the Mount Carmel Missionary Baptist Church for 12 years. The church experienced tremendous growth under the leadership of Reverend Dr. Joseph Felker, Jr., though obstacles had to be confronted, God did not allow them to prevail.

Numerous accomplishments for Christ, Church, and Community have been made in the 51 years of Reverend Dr. Joseph B. Felker, Jr.'s Pastoral Leadership. While God has blessed Mount Carmel to add Christian souls to the body of Christ –
they are too numerous to list. We have also been blessed to touch the lives of those in our community and surrounding areas via the C.E.D.A. Program and its various utility assistance and weatherization components, managed by Sister Jacquelyn Harton, as well as through our Senior Mission under the leadership of Sister Sandra Figgers, and our Naomi Mission Circle, led by Sister Renee Ward.

There have been many ministries of note in the history of Mt. Carmel, however, there is one ministry that we beleive should receive recognition because of what it has done, and continues to do for our church and community: 1993 marked the start of the Mt. Carmel Martial Arts Ministry. Pastor Joseph B. Felker, Jr. had been approached by one of the members of Mt. Carmel, Sister Denise Davis, concerning a young man that has been teaching Martial Arts on the North Side of Chicago, after being identified and hired by the Late Mayor Harold Washington, and assigned to the North Side site by one of the City's Alderman.
B

rother Stan McKinney also known as Brother Stan, was approached by Pastor Felker to start a Martial Arts Ministry, at Mt.Carmel. He took on the task glady. He and his initial group went to every housing development on the south side of Chicago close to Mt. Carmel. On the 1st day there were 375 persons present to join. Pastor Felker had to tell brother Stan that there were so many people on the third floor and the building could not withstand the wieght! From its inception to now, the Mt. Arts Ministry has reached and trained over 6,000 persons. Chuck Norris Famous Hollywood Martial Artist, came to Chicago to convince brother Stan to come with him to Califoirnia and start some schools there with him. But as members of Mt. Carmel can attest, brother Stan stayed with us! Many people have become members of Mt. Carmel because of the outreaching evangelistic efforts of brother McKinney and the Mt. Carmel Martial Arts Ministry. Martial Arts Sensei's that are active members of Mt. Carmel are: Brother Stan McKinney and Brother William Collins, Sensai John, and Brother John Hutchenson.

As our Legacy to God and community continues, the Reverend Dr. Joseph B. Felker, Jr. after 51 years of faithful service retired from the Pastorate and became Pastor Emeritus, a title and recognition deserved for such a servant of God. On February 15, 2009,
the Reverend Dr. Robert Charles Jones, Jr. was installed as the 3rd Pastor of the Mount Carmel Missionary Baptist Church. With the help of God, and the leadership of Pastor Jones, we will continue to do God's will toward our members, the unsaved,
the un-churched, and the community as our story and mission continues.

Our Church Scholarship Ministry (Ruthie B. Felker Scholarship) established by Pastor Emeritus Felker and after being led in the capable hands of Sister Careda Taylor, is now under the leadership of Sister Nicole Harton, continues to provide significant financial assistance to qualifying members of our congregation annually in their post secondary endeavors of undergraduate, graduate, college, university, trade, or business schools.
We have our College Ministry led by Sisters Michele Taylor-Howard & Latoya McDonald, the ministry keeps in touch with our students that are away as well involving the church toward preparing the high school seniors for school with travel truncks, supplies and good counsel all with maintaining that important relationship with Christ.
On Sunday, May 23, 2010, the Mt. Carmel Missionary Baptist Church Educational Building was renamed and deicated as the DR. JOSEPH B. FELKER, JR. FAMILY LIFE CENTER. The Message for the dedication on that day was preached by Dr. L.K. Curry, Pastor Emeritus of the Emmanuel (God with Us) Baptist Church with Dr. A. William Staten, Moderator of the Greater New Era District present to give remarks and present the Preacher. The Cornerstone was installed by the members of the St. John Grand Lodge, Brother Willie C. Jenkins, Grand Master and Sister Hilda Spencer, Grand Matron.
In the year 2011 we dedicated our Church Finance Room in honor of Trustee Robert O. Booker. An oustanding Church leader who as Leader of the Trustees was a faithful, loyal, and trustworthy leader until his health failed him, on May 17, 2015 Trustee Robert O. Booker went home to be with God.

In 2011 we instituted our church-wide Keep-In-Touch Ministry, led by Sister Pamela Allen, this ministry works hard to keep up with the members that join our church and can sometimes get sidetracked or lost due to personal, fianancial or georgraphical issues that cause them to attend church less, K.I.T lets them know that they are more than a membership tracking number, that we need them and we miss them when they are not present and active in our ministries and activities.

To date with our supportive lay-leadership and congregation, we have active ministries all designed to worship and praise God while strengthening our congregation, witnessing to the unsaved, reaching out to the un-churched, and teaching all nations to observe all things, missions, evangelism, stewardship, fitness, and good health practices.

In the year 2012 we dedicated our Deacon's/Laymen Preparation Room in honor of Deacon Peter F. Irby. An outstanding Church Leader who served well as Chairman of Deacons under both Rev. Joseph B. Felker and Dr. Joseph B. Felker, Jr.

We launched our Youth Church – ages 7 years to 13 years, under the leadership of Sister Camille Varnado-McKee in the spring of 2012. Our Church Nursery, continues to serve our children ages 1years to 6 years of age is under the direction of Sister Brittuan Brown.
W
e adjusted the age requirement of our Inspirational Choir in 2012 to become open to all adult ages, while reintroducing our Youth and Children's choirs, under the leadership of Brother Christopher Grant (Inspirational Choir); Sister Brenda Gilbert-Young and Sister Lorraine Brown (Directors of Youth & Children's Choirs respectively).
I
n July 2012 we launched our 1st Annual Youth Revival. Led by Deacon Dorian "Bill" Figgers Youth Director, Sister Inez Moss-Louis, Assistant Youth Director, and their staff of volunteers. we engaged in a time of witnessing, fellowsip, singing, praying, praising, and preaching for three evenings (Tuesday, Wednesday, Thursday) at 7:30pm nighly. Our inuguaral evangelist/preacher was the Reverend Robert C. Jones, III. Pastor of the John Divine Baptist Church of East St. Louis, Illinois.
D
uring the time between 2012 to 2013, God has blessed us with new Ministers of the Gospel, Brother Phillip Varnado (relocated with his family to Alabama in the beginning of 2013) and Brother Calvin Taylor, both of whom God returned to the Mt. Carmel family, with our newly arriving ministers being Sister Sheri Scales and Sister Nina Smith-Phillips.
I
n our past, during the holidays, we would provide dinners from those in the community and members in need, during the Thanksgiving and Christmas Seasons. In 2013 a new ministry was launched, SOUL FEEDERS, led Sisters Cecile Bailey, Erin Bright, and Madelyn James, together with other volunteers, financial and material support from Mt. Carmel as well as our neighboring Illinois Institute of Technology (IIT) we have started to serve meals to be eaten at the table inside our hall, with a great seasonal environment of decorations and music, we are just getting started, and wew are still learning, but Cecile , Erin, and Madelyn, and those that help them are committed to serving humanity within our church and community.
I

n 2012 we began the development of our 1st Church Picture Directory. Working with the LIFETOUCH Corporation, Our Own 1st Lady Creola Jones and Sister Paula Hawkins, led the effort, Sister Angela McDonald under the guidance of Brother Lawrence Ware did ministry photos while Brother Ware did the page set ups and the lions-share of group and activitiy photography, Sister Carol Taylor did the directory data-base information and we had other-area volunteer assistance from Sister Janice Murph, Sister Tonya Booker and Sister Dell Sims, and many others. We have successfuly done our second directory in 2015.
T
he Year of 2013 marked the launch of the Mt. Carmel M.B. Church Senior Culture Club, Led by Sisters Ruth Brown & Mary Hooker. This ministry involves and engages our seniors (55 & UP) with activities and fellowship, broadening the cultural horizons of our people beyond the parochial reach of just our own culture. This ministry has done everything from luncheons immediately after worship on Sundays to going to the Dusable Museum, visiting an Amish Village in Indiana, trips the the Black Ensemble Theatre of Chicago, and going to the Holocaust Museum in Skokie, IL. The potential of this ministry is exciting!
I
n 2013 due to the efforts of Sister Tonya Booker, we established a training realtionship with ADDUS HealthCare Providers as twice each month no less than 125 persons are trained to provide adequate healthcare to those who need it in Chicgao & Vicinity. The proceeds from the lunch daily go toward our Ruthie B. Felker Scholarship account.
D
uring the Month of Decemeber 2013 Pastor Jones proposed that we would celebrate our Annual Dates and Musicals scheduled for Sunday afternoons would be held during the morning worship at 11:00am. The "usual" Morning Worship order would be modified relative to some our our standard presentations of worship to accomodate, worship leaders, ministry histories, solo's, etc.. The Inaugural event held under this model was a "Revue" of our Inspirational Choirs Christmas Musical, which had been held on the afternoon of the previous Sunday.
W
e host an annual Young Girl Development Retreat, since 2013 sponsored by the 365 Girls Rock Foundation, Inc. a national organization, led by its organizers: by Sister Tracy Hawkins-Sydnor, Sister Michele Taylor-Howard, and Sister Tia Hawkins.
T
he Year of 2012-13 also marked the newest launch-point of Mt. Carmel's future, becoming our present with the utilizatoion of our young adults in vital leadership positions: Sister Camille McKee, became Director of the Youth Church, Sister Brittaun Brown, became Director of the Nursery Ministry, Sister Latoya McDonald and Brother David Howard, became the Directors of the Youth Activities Ministry, and Sister Michele Taylor-Howard became General Chairperson of our 2013-2014 Annual Women's Day Event and Activities.
O
ur Bible studies are "streamed-live" twice-a-month through USTREAM via FACEBOOK, with comments and questions acknowledged in "real time" in the text box of FACEBOOK thanks to the work of Sister Carol Stewart-Taylor & Brother Lawrence Ware, or through our TWITTER FEED - @MCMBC2978 – managed by Sister Camille Varnado McKee, and now as of May 2014, via OUR INSTAGRAM PAGE - mcmbc2978 managed by Sister Latoya McDonald.. We have enhanced our Church website thanks to the work of Sister Carol Stewart-Taylor and Brother Lawrence Ware. We invite you to go to our alive and active website at mtcarmelmbchurch.com and explore our Bible Studies, Church-School Lessons, Calendar of Events, and much more.
G
od Blessed Mt. Carmel in February 2014 yet again as the Alton and Terry Logan Family provided a substantial philanthropic gift to the church in the form of a complete Sound System servicing the Santuary and all of the Felker Family Life Center 1st, 2nd, and 3rd floor areas and with a separate Sound System to operate in the Hall of the Life Center, which can and does operate in harmony with the Sanctuary system when needed.

We expanded our oureach in 2014 with Bible Study in the NieghborHOOD on Tuesday nights at 7pm in the Dearborn Homes Community Center, Reverend Calvin Taylor facilitates this work and the Dearborn Homes Resident President, and member of Mt. Carmel, Sister Carol Wallace makes sure that all things are in place to have a great Bible Study.
2015
began with the initiation of two new activity arms to our Mission and Laymen Ministries. The Ruth Circle, a part of our Senior Mission, growing out of our Naomi Mission, consiting of our Young Adult women who have a burning desire to do help ministries within the family of the church and the community, led by Sister Shannon Martin; and our Joshua Ministry,
a part of our Laymen Ministry,
designed to give Bible-based life-purpose to our young boys, led by Reverend Calvin Taylor,
W
e currently have in the formulative stages: NEW "WRAP AROUND WORSHIP" SUPPORT SOCIAL MINISTRY DEVELOPMENT, directed by Sister Tonia Booker. these will consist of Ministries designed to sustain our church and community such as Teen-age Counseling, In-School Suspention Tutoring and Counseling, Family Counseling, Counseling Hot Line, Depression Counseling and a Prayer Line.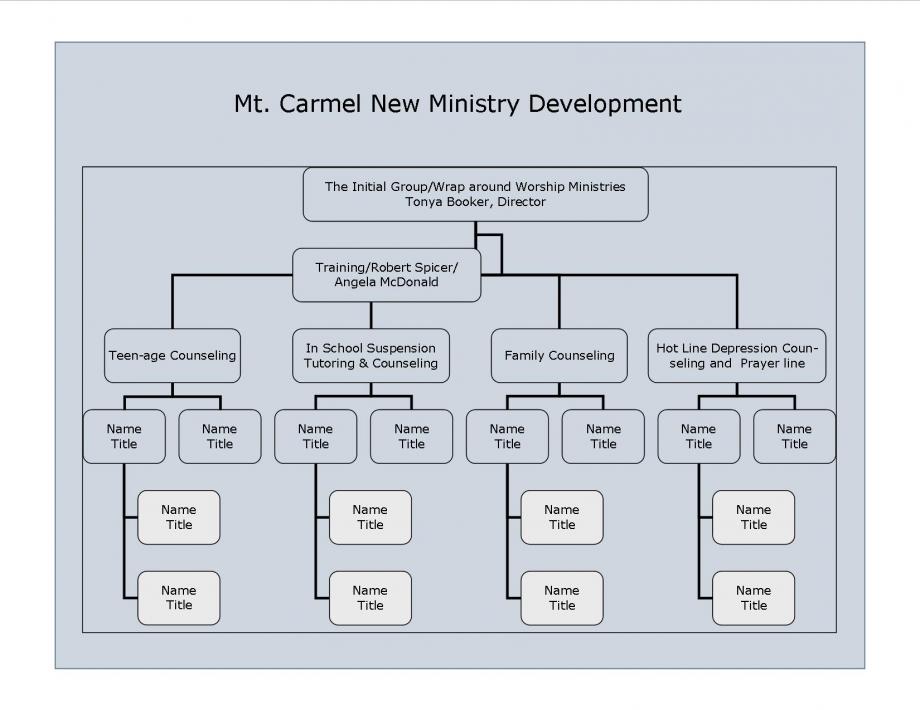 A
s we work to deal with the anger issues within our community and among our youth and adults that lead to community violence, we are establishing a NON-VIOLENT PEACE CIRCLE within our church meeting monthly, led by Sister Angela McDonald.
M
onday August 3, 2015 Mt. Carmel Launched our newest outreach initiative. We began broadcasting on CANTV Channel 36 and CANTV.ORG. Monthly on selected days during the week, our sunday broadcast is aired on CANTV channel 36 and CANTV.ORG in the mornings and evenings. Go to CANTV.ORG/SCHEDULE to find out the days and times that our ministry is airing.

Also in the month of August 2015 Sister Inez Moss-Louis was inspired by the Holy Spirit to concentrate physical and financial effort on the outer north-side of the Felker Family Life Center as well as around the front areas with flowers and plants. Those areas had been care for for years by Deacon Leon Sims and His wife Leora; Sister Barbara Dukes also did a fantastic job with the front ledge-tray plants and flowers especially. With the assistantce of the church, we have installed an outside fawcet that can water the grass and plants as needed around the outside of the church. Our 1st Lady Sister Creola Jones, and Co-workers of Sister Inez, has begun a great work on the northside,
that is beautiful, we are going to place furniture in the are and make it into a nice good weather sitting area, the area will be named after the Louis's daughter Asia.



I

mprovements and repairs are constant in the life of any reponsible and growing church, and Mt. Carmel is no different: 2013 - Glass and Aluminum entryway installed at the front entrance of the Famliy Life Center and in 2014 a Rear Foyer Wind Block-Weather Protector, was installed at the Parking lot entrance to the Family LIfe Center. Both of these initiative provide tremendous savings with our utilities.



I

n September 2015, in collaboration with Common Wealth Edison, with their Chicago Going Green Initiative, all of our Flourescent Light Fixtures and bulbs, in the church facility as well as each floor and office fo the Felker Family Life Center, were replaced and installed with only the fixed cost of labor coming to $400.00, an initiative that saves the church hundreds of dollars, if we were to do this without this program! we now have the most current and modern energy saving increased lighting, flourenscent light fixtures and bulbs. On the Bell Tower, a new Aluminum framed entryway to the roof was installed replacing the wood framed entryway to the roof that had began to leak and not provide a sealed, weatherproof environment. A firedoor was installed between the hall of the LIfe Center and the Small Chapel.
O
n the 5th Sunday In August 2015 during the morning worship, we launched our electronic giving of Tithes and offerings. Members can now give with their credit, debit, ebt, or diners club card if they choose. Brother Kenyata McKee was selected to join the finance team to handle those transactions for the church.
T
hanks to the
Logan Family
, with a significant donation, offered along with the Church financial portion, we were able to completely repave and stripe our rear parking lot.
W
e have added in the month of October 2015, an 800 number to our church phones for a prayer line that will begin soon during our live streaming Bible Studies. Providing opportunity persons who may want to have prayer. We intend to expand this line to a counseling hotline with certified counselors to be available for those who need it.

Mt. Carmel's own Attourney James Harris, provided helpful legal classes for members in areas of need: Will & Trusts, The Law as it relates to Nursing Home Facilities, and Youth Engagement with Law Enforcement. Our Youth Activities Ministry and our Youth Church began our annual youth revival 2016 with a very moving Black Lives Matter Presentation, which built off of the foundation of the presentation developed by Lorraine "Bird" Key during our BLack History presentation series in February. Brothers Andre Dennis & Wayne Crockrom, themselves Law Enforcement Officers, developed and share a presentaion with our males 11 to 18 teaching their rights based on the US Constitution as they live in the presence of and potentially will engage Law Enforcement. Each participant gets a copy of the US Constitution.

Capital Improvements and repairs continue in 2016: One year after the rear parking Lot was installed, it was resealed and restripped as required. We have installed automatic paper hand towel
dispensers and large roll toilet paper dispensers in all restrooms. Our stained glass windows on the South side of the sanctuary and the upper and lower east windows and the upper west windows will be repaired, frames repaired, strengthened and repainted, and covered with a clear outside, protective covering.
The Willet Hauser Archetectural Glass, Inc. Winnona MN, & Phildephia, PA
. will do the work. The commercial aluminum & glass doors at the 2978 S. Wabash Entrance to the church will be replaced with new doors and hardware.
The Door & Window Outlet d.b.a. The Door Store, Chiacgo, IL
. will do the work. A Program done by the
Common Wealth Edison Going Green Initiative
of which Mt. Carmel is eligible, will have Commonwealth Edison replace all of our thermostats with programmable ones, and installing motion sensitive switches to control on & off lighting throughout our facilities, the program is also going to repace our steam table in the Kitchen. Our Deacon Chairman and Church Anniversary General
Chairman Phiilip Varnado
presented honors to two of our members one postsumously:
Deacon Milton Taylor
( working with the laymen at the local, state, and national levels, as well as teaching young adults, adults, and deacons) and
Mother Para Lee Taylor
(church school teacher, singer, leader in our choirs, and a Mother of the Church before she passed) will have there classrooms named after them because of the service they have provided to the people they have served and to Mt. Carmel, the church in which they worship.
W
hile
we pursue the work of God, our Lord and Savior Jesus the Christ, and the ever presence of the Holy Spirit, we know that God will continue to bless and we will remain, "The Church, Where You Are Always Welcome!"