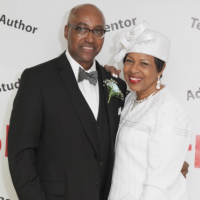 NBC USA, Inc. Report & Update
By Dr. Robert Charles Jones Jr. | September 10, 2019

National Baptist Convention USA, Inc. – Dr. Jerry Young, President
Held Monday September 2 through Friday September 6, 2019
New Orleans, Louisiana

Monday afternoon – Board Meeting –It was determined that since no potential candidates for President were certified by NBC USA, Inc. based on the criteria of needing no less than one hundred letters from churches throughout the country supporting their candidacy, Dr. Young would enter the set election date of Thursday September 5, 2019 unchallenged.

Tuesday morning – Official Opening Day – Devotional Message was given by Greater New Era's own, Dr. Ervin Milsaps, IL. Shiloh Baptist Church – Title - Maybe Your Salvation Needs to be Refreshed – John 3:3. Dr. Harry Blake, LA, Presented President Jerry Young MS. And he called the Convention to order. We then had a session of prayers: for the Convention, the Church, the Nation, and a Memorial. The Host Committee presented the Welcome Program which consisted of greetings from the Governor, Mayor, Sheriff, Chief Justice, and Chief of Police. The Annual Sermon was given by Pastor Billy Russell from Minnesota.

Tuesday afternoon – Foreign Mission Hour – A report was given on our Nine Mission stations in West, Central, South Africa, and Central America. The Sermon was given by Pastor Haywood Robinson, MD.

Wednesday morning – Home Mission Hour – A report was given on our work throughout the US and Puerto Rico. Hurricane and other natural disaster relief as well as witnessing and outreach. The Sermon was given by Pastor C.P. Preston, FL.
The Women's Auxiliary, President Cynthia Perkins Smith gave her 3rd Annual address

Wednesday afternoon – Faith-Based Initiatives Department Meeting – Pastor Jones was officially appointed as a National Faith-Based Initiative Director, serving as liaison to the Federal US State Department for the purpose of obtaining information and sharing of resources to the National Baptist Convention USA, Inc. State Faith-Based Directors, and Churches.
The Women's Auxiliary had their WOMEN IN WHITE GRAND MARCH, led by BGSC of IL President Cassandra Kidd and our Illinois Women.

Wednesday evening – Foreign Mission Banquet- Attended the banquet to support, BGSC of IL. President William H. Foster, Jr. as he received, The J.H. Jackson Leadership in Missions Award for his participation and support of Foreign Missions.

Thursday morning – President's Hour – Pastors who have served 50 years are more were acknowledged. President Young gave his annual Address – Do Not Let Your Desire to be Relevant Turn into Irreverence to Christ! – Preaching Jesus is Not an Option, It is our mandate. President Young spoke against the I.C.E. raids in his home state of Mississippi and everywhere else in our country. Our actions as a nation are not righteous. The silence of White Christians on the matters wrong in our country is unrighteous and unacceptable. We are building assets for our NBC USA, Inc. Credit Union (see nbcusainc website) and we have our own NBC USA, Inc. credit card (see nbcusainc website). We (NBC USA, Inc.) are establishing connections of our Churches to the tax dollars that have been paid by our members to feed back into our communities, not as the Government would have it, but as it is supposed to be: opportunities with no government strings attached. This will be done through our Federal Faith-Based Initiatives Department, headed by Greater New Era's own Dr. Alvin Love, IL.

Thursday afternoon – Faith-Based Initiatives Meeting & Woman's Auxiliary Meeting

Thursday evening – Affirmation of Dr. Jerry Young to serve another 5 year term as President of the National Baptist Convention, USA, Inc. Note: Dr. Young's affirmation was unopposed and took ONLY 30 minutes.

Back