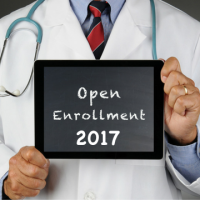 SENIOR OPEN ENROLLMENT INFORMATION/Provided by Oak Street Health
By Dr. Robert Charles Jones, Jr. | November 22, 2017
So what exactly is the Medicare Annual Enrollment Period (AEP)?
AEP takes place from Oct 15 to Dec 7 every year. During AEP you may
- Switch from Original Medicare to an Medicare Advantage Plan
- Switch from a Medicare Advantage Plan back to Original Medicare
- Switch from a Medicare Advantage Plan to different Medicare Advantage Plan

Original Medicare includes Part A (hospital) and Part B (doctor visits). Folks who want additional coverage on this plan buy MedSupp or MediGap policies.

Medicare Advantage, known as Part C, is "All-in-One insurance: covers Parts A,B,&D. Has zero to low premiums and can include benefits such as dental, vision, hearing, transportation, health club membership, over-the-counter drug benefits, and more.

At Oak Street Health, we want you to be happy and healthy with a Medicare Plan that best meets your needs. We have Medicare experts (we do not sell insurance, we are a group of primary care centers) who provide unbiased support with your Medicare coverage, paperwork, and questions. It's like having a personal assistant to help you. Everyone's situation is different- work with an Oak Street expert to find the right plan for you. Please call us today at 844-808-8262 to learn more.

Mark Kruger
PS: We treat patients like family. That's why 9 out of 10 patients recommend Oak Street to family and friends.
Back