Outreach Evangelism Ministry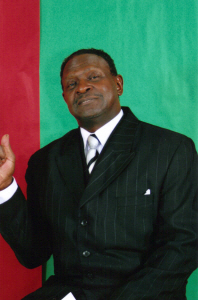 Reverend John H. Jones, Director
Outreach Evangelism Ministry engages the unsaved and un-churched community through training, mailings, and door-to-door campaigns all designed to serve this present age with the message of a Risen Christ who provides salvation for all who would believe, accept and live for Him.
Are Your Worship's and Activities open to people of all races and ehtnic origins?
Yes. Our worship and activities are open to all who would like to come and share. Our worship is in English, to include singing, scripture reading, prayers, and the sermons. However, if there are Christian's that would want to interpret for our Asian-American community, we would welcome the opportunity.
I love to sing and to hear singing, how can I become a part of the Choir?
Choir participation, other than being invited as a special guest to sing, is dependent upon you becoming a member of the church. If you are a first time member or a member that has returned after a one year absence YOU MUST ATTEND NEW MEMBER ORIENTATION! Foe explanation or more information please contact Pastor Jones or Deacon Phillip Varnado.
I work on Sunday, are there other times that I can come to your church for Bible-based activity?
Yes. We have Bible Studies on Wednesdays at 11 am and on Thursday nights at 7 pm.
How should members participate financially? What should I do? How Should I Give? How should I give it?
The Mt. Carmel Missionary Baptist Church follows the Bible-Based mandate of Tithes and Offerings. This is God's design, not the churches or the Pastor's design. This manner of giving provides a fair way of supporting the ministries of our church so that membership and leadership can be based on commitment and spirituality. It is important that your giving should, especially your Tithe, be put in an envelope with your name and amount on it. Your address is optional but recommended. This does two things, 1st it provides the church with an accurate record for YOU should and if you need a record of your church financial support, IRS, Insurance, etc... 2nd It provides you church with an accurate record of the number of members who are givers and the total amount, weekly, monthly, quarterly, and annually. This is important if the church has to enlarge our ministries or facilities to the point where we would have to go to a lending institution, which would require financial viability based on membership size, Tithes, and offerings. ANOTHER NOTE: Number 1 - The first offering that we collect in morning worship is the Tithes (that is 10% of what God had blessed you to receive. (not gross not net just 10%). That is the one when people walk up toward the front and give. Number 2 - The second offering is the general offering and benevolence (also called Mission). This is the giving that those who do not give 10% give toward church and ministry support and to provide for the times when there are people in legitimate need. Members who Tithe also give and offering, out of their willingness to give toward the church and its ministries AFTER THEY HAVE "PAID" THEIR TITHE IN OBEDIENCE TO GOD!