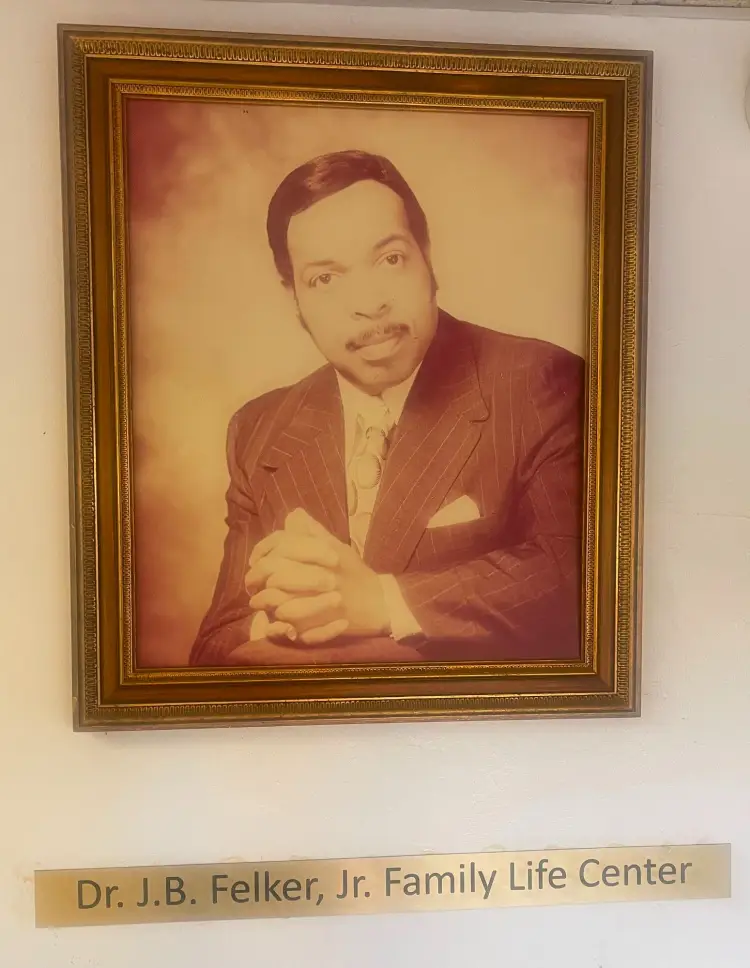 History & Activity of the Dr. J.B. Felker, Jr.
Family Life Center
In 1986 erection of the educational building of the Mt. Carmel Missionary Baptist Church was completed to provide fellowship space, educational and community outreach, and enrichment opportunities
1993 marked the start of the Mt. Carmel Martial Arts Ministry. Pastor Joseph B. Felker, Jr. had been approached by one of the members of Mt. Carmel, Sister Denise Davis, concerning a young man that has been teaching Martial Arts on the North Side of Chicago, after being identified and hired by the Late Mayor Harold Washington, and assigned to the North Side site by one of the City's Alderman.

Brother Stan McKinney also known as Brother Stan, was approached by Pastor Felker to start a Martial Arts Ministry, at Mt. Carmel. He took on the task gladly. He and his initial group went to every housing development on the south side of Chicago close to Mt. Carmel. On the 1st day there were 375 persons present to join From its inception to now, the Mt. Carmel Martial Arts Ministry has reached and trained over 6,000 persons.
On Sunday, May 23, 2010, the Mt. Carmel Missionary Baptist Church Educational Building was renamed and dedicated as the DR. JOSEPH B. FELKER, JR. FAMILY LIFE CENTER.
From 2010 until now the partnerships and activities of the Dr. Joseph B. Felker, Jr. Life Center have been more intentional in the below mentioned areas and partnerships.
Employment:
Collaborated with and housed within our Family Life Center, ADDUS Home Care Service and Supply – 2016-2019 (Pandemic Shutdown). Provided Preparation/training for employment of persons for Health Care, Care Giving, and cleaning services. Employee Preparation and placement of 90 people per week during 2016 until the Pandemic shutdown of 2019.
Collaborate with and house Chicago Housing Authority Community Outreach to provide in the building summer employment for 25 youth – 2018.
Collaborate with and house Chicago Housing Authority & Chicago Police Department – YOUH CORPS, to provide job training and placement to 30 young people – August 2020.
Collaborate with and provide training space for Chicago Area Project – Career Development Training and Placement Employment Services, - July 19, 2022 – Present.
We are in Partnership and house the Fathers, Families, and Healthy Communities Organization that confronts racism, poverty and policy that limit relationships between non-custodial Black fathers and their children. Through training, collaborative partnerships and advocacy based on a theory of change that promotes the embedding of promising practices, scalable strategies, and sustainable efforts, FFHC seeks to create new pathways for men to connect with their children, their families , gainful employment, and their communities.
Emergency Assistance:
Housed in our family life center, the C.E.D.A. Li Heap – Program from 2006 until 2019. 10 of our employees/contractors provided emergency winter and summer utility assistance and weatherization.
During the community violence of 2020 that caused the closing of local grocery stores, pharmacies, and businesses. We collaborated with Lagenia Burns Hope Center to provide transportation for Senior Citizens to shop for groceries, medicines, and some shopping. We provided drop off and pick up services for 17 seniors (with our 17 passenger Van) from each senior building (3 different buildings each week) in the Bronzeville Community.
During the height of the Pandemic we collaborated with Mr. Ray Thompson, Director of Education and Youth Development at Greater Auburn Gresham Development Corporation in Chicago, Illinois; Mr. Caliph Rasul Executive Director of MASK UP AND LIVE, Inc., together we provided PPE in the form of gloves, masks, and hand sanitizer to over 1,500 residents of the Bronzeville Community.
During the height of the pandemic, we also continued our partnership with Lagenia Burns Hope Center to coordinate and prepare from our facility to provide toiletries, household cleaning supplies, gloves, masks, and hand sanitizer to 400 hundred senior citizens per month living in the senior apartments in the Bronzeville community.
Food Support:
We collaborated 2020-21 with Sweet Potato Patch, Inc. to, on our site, prepare and provide healthy affordable food options to areas of the Bronzeville communities and other South Side Chicago Communities experiencing food desert crises.
We continue to work with Lagenia Burns Bope Center to prepare on our site and deliver groceries consisting of meat, vegetables, can and dry goods to 120 senior citizens per month in the senior apartments of the Bronzeville community.